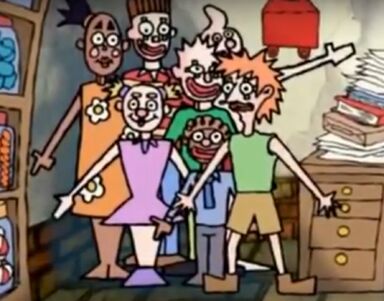 The
Shop Dummies
appeared in the
series 1
episode
Sweets
.
Description
What appeared to be a collection of six child-sized mannequins, the shop dummies were in fact naughty children who had been lured in to Sweets with the promise of free treats by the Sweet Shop Owner who turned them into dummies using papier-mâché. The main character of the episode, Thomas Ratchet (who was the naughtiest boy in the world), was one of the children tricked in this way.
Trivia
The Sweet Shop Owner appeared to have been selling the dummies to other stores, as some were seen in the windows of different shops.
Although Thomas's mum didn't recognise him as a mannequin, his little sister Emily did, and waved to the unfortunate boy as they passed.