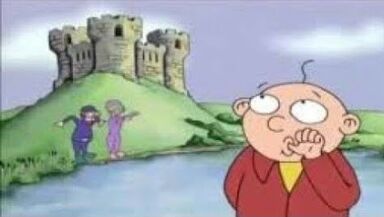 The Pie Man
is the eighth episode in
series 3
of
Grizzly Tales for Gruesome Kids
.
Characters
Plot
From the day he was born, Donald was a thumb-sucker. After being warned by the hospital nurse that children who suck their thumbs get a visit from the Pie Man, his parents bought Donald a dummy to suck instead. However, this just created another problem, as Donald wouldn't give up his dummy, even when he was far too old for it.
Eventually his parents resorted to stealing the dummy and trying to get rid of it, but try as they might, Donald always got it back. They threw it in the bin, but he sucked it back in, they threw it on top of a London bus, but again he got it back, and they fed it to a snake at the zoo, but Donald sucked the poor creature inside out like a sock to get his dummy back.
Finally, his parents took Donald to Loch Ness, and while there grabbed its dummy and threw it out into the loch. There, the Loch Ness Monster grabbed it and gave it to its baby, finally putting the thing beyond his reach.
Unfortunately, this made Donald go back to sucking his thumb. His horrified parents convinced Nessie to give back the dummy, but by this time it was too late: Donald preferred the taste of his thumbs to that rotten old thing.
Later that night, Donald was in bed sucking his thumbs when there came a knock at the door. It was the Pie Man, who tried to get Donald's thumbs out of his mouth to chop off and put in his pie, and when this failed, simply grabbed the boy up and popped him into a pie whole, ensuring that the boy would never suck on his thumbs ever again!
Morals
The morals of this story are "don't suck your thumb," and "do as your parents tell you."
Trivia
The boy is given a box of worms for a snack in the introduction section of this episode.
Do you think that Donald's parents should have done more to stop Donald from sucking his thumbs?